BLOG: Customer Service at Virginia Abrasives
Back to The Real Grit Blog
Customer Service at Virginia Abrasives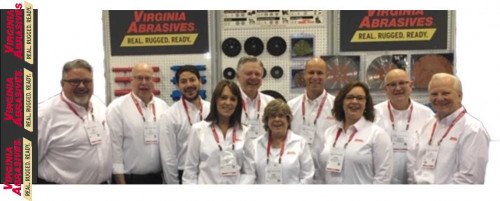 Customer Service at Virginia Abrasives - Learn More About Us
You'll want to add Virginia Abrasives to your product line when you learn more about our customer service. Our roots date back to the early 1970's, when a hard rock garnet abrasive mining business in the Adirondack mountains of New York decided to invest in the sandpaper manufacturing business.
WE ARE: Real. Rugged. Ready.
In the late 70's, Virginia Abrasives identified the equipment rental market as a target opportunity for wood floor sanding abrasives. Fairly quickly, the company became a major supplier to the industry, with a specialized product and service offering that met the needs of the equipment rental dealer - package quantity, product performance, lead times, competitive pricing, and personalized, world class service for which the company remains well known.
Over time, the company has expanded its product portfolio to include a vast assortment of cutting, finishing, surface preparation, and floor care products and solutions. This includes diamond abrasives for concrete and asphalt cutting and surface preparation, flooring tools and fasteners for installing hardwood flooring, concrete power trowel blades, as well as a full line of construction equipment – high speed and walk behind saws, tile saws, core drills, grinders and dust control vacuum systems.
Today, Virginia Abrasives' manufacturing facility remains in history-rich Petersburg, VA. With extensive inventory of thousands of products, Virginia Abrasives is able to ship orders same-day to thousands of independent dealers, national accounts and hardware cooperatives, with most orders delivering in 3 business days or less.
Virginia Abrasives also feels that investing in the human resources to support our excellent customers is critical. The company maintains an extensive network of manufacturers' representatives nationwide, as well as regional sales managers, inside sales representatives and world-class customer service representatives, covering the U.S. with this team of roughly 50 sales and service professionals.
OUR VALUE PROPOSITION: CUSTOMER SERVICE IS OUR STRENGTH
We hear from our customers, over and over again, that the customer service provided by our team at Virginia Abrasives takes our client interactions to the next level of service.
Some of the things that continue to set us apart from other companies:
Made in USA - Our sandpaper is made in the USA, in Petersburg, VA and has been since 1971. We are one of only five companies that continue to make sandpaper in the United States.
Free Shipping - This isn't new for us. We've been doing it this way for years. There is no club or program to join. Just free shipping to you or your job site.
No Minimums - We have no order minimums.
Same Day Shipping - All orders for in-stock items placed by 3:00 p.m. Eastern ship that day. This allows your order to get to you faster.
Satisfaction Guaranteed - You will be satisfied with the products in your order or we will take them back.
Our Team - With five Regional Sales Managers and four Inside Sales Representatives, our Customer Service team of four is very busy. When you consider that this team has a combined 70 years worth of experience with Virginia Abrasives, they are knowledgeable as well as helpful. They know our products. They know abrasives. And they know what to recommend to get your job done right the first time.
We Love Our Jobs - We know you can purchase your abrasives products from anywhere in the world. Our hope is that you take the time to get to know us and you will not be disappointed.
To those of you who have shared your experiences with us, thank you! You've made us strive to raise the level of customer service on every call, every order and every interaction.