Aggregate Hardness in Concrete
Back to The Real Grit Blog
Aggregate Hardness in Concrete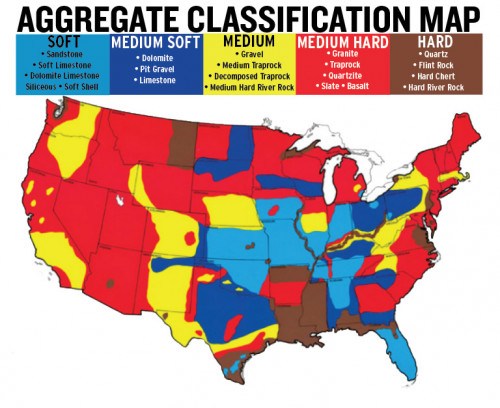 WHAT ARE AGGREGATES?
Aggregates are the minerals and rocks that make up the materials used in concrete.
WHAT IS AGGREGATE HARDNESS AND WHY IS IT IMPORTANT?
Aggregate hardness in your area is determined by the minerals and composition of the materials used to make your concrete. This is important to know when choosing tools to grind or remove concrete. In grinding, it is important to know because hard concrete requires soft bond tooling and soft concrete requires hard bond tooling.
SOFT AGGREGATES
Found in most of Florida, Kansas, Oklahoma, Missouri, Iowa, Illinois, Indiana, Tennessee and Alabama, soft aggregates include Sandstone, Soft Limestone, Dolomite Limestone, Siliceous and Soft Shell.
MEDIUM-SOFT AGGREGATES
Found in Texas, eastern North Dakota and northern South Dakota, southern Minnesota and southern Wisconsin, Ohio, Pennsylvania, Kentucky, western South Carolina, northern and southern Georgia, parts of Alabama, eastern Colorado and northern New Mexico, m edium-soft aggregates include Dolomite, Pit Gravel and Limestone.
MEDIUM AGGREGATES
Medium aggregates include Gravel, Medium Traprock, Decomposed Traprock and Medium Hard River Rock. Areas where Medium aggregates can be found are Southern California, New Mexico, Colorado, Oregon, Washington, western Wyoming and eastern Idaho, Nebraska, central Illinois, southwest and southern Texas, western Virginia, West Virginia, western North Carolina, western New York, Massachusetts and along the Ohio River Valley.
MEDIUM HARD AGGREGATES
Found in western Washington, western Oregon, Northern California, Idaho, Nevada, Utah, Arizona, western New Mexico, western Colorado, Wyoming, western North Dakota, southern South Dakota, Minnesota, northern Wisconsin, Michigan, west Texas Panhandle, central Texas, southern Arkansas, central Georgia, eastern South Carolina and North Carolina, eastern Tennessee, central Virginia, Maryland, eastern New York, New Jersey, Delaware, Vermont, New Hampshire, Connecticut, Rhode Island and Maine, medium hard aggregates include Granite, Traprock, Quartzite, Slate and Basalt.
HARD AGGREGATES
Hard aggregates include Quartz, Flint Rock, Hard Chert and Hard River Rock. They can be found in the Puget Sound area of Washington, eastern Montana, southern Texas, south central Arizona, northern Mississippi, Mississippi, southern Alabama, northern Florida, eastern Virginia, western New Jersey and eastern Pennsylvania.
To learn more about grinder tooling for concrete in your area, click here: Virginia Abrasives Grinder Tooling
For more about diamond blades, click here: Virginia Abrasives Diamond Blades