WEBINAR: Coated Abrasives in Rental Stores
Back to The Real Grit Blog
WEBINAR: Coated Abrasives in Rental Stores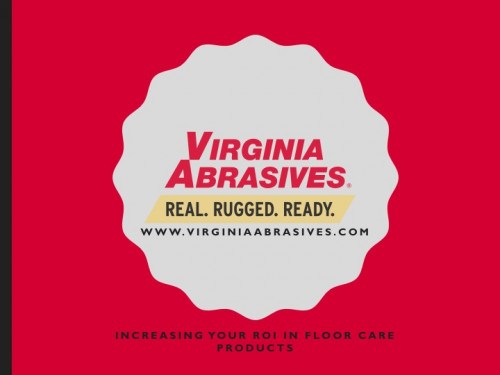 What are Coated Abrasives? How are they used? What is the best way to get ROI on your investment?
Virginia Abrasives Coated Abrasives Webinar
You carry sanding machines in your rental store, but do you know how to increase your ROI with each rental by recommending the proper coated abrasives to complete the job?
During this webinar, we review methods for sanding floors, whether old, new or prefinished. We also talk about different types of floor sanding machines, the abrasive products to recommend for a professional finish and ideas to merchandise sandpaper in your business.
We also provide you with resources, such as quick response (QR) codes to access our online Floor Sanding Video and Floor Sanding Guides.
Feedback from Greg, one of our webinar attendees: "I wanted to thank y'all for doing the webinar. I am always trying to learn-been in the rental business now for 39 years, and still continue to learn new tips that further help my business. I did learn a few more educational tips and the format for the webinar was good as well. I also thank y'all for showing examples of how rental stores set up there floor sander and paper sections. Thank y'all again for doing this webinar!"
Recommend the following products to your customers to insure a professional-looking floor finishing result:
Drum or orbital floor sander
Edger disc sancer
Rotary floor sander/buffer/maintainer & driver
Vacuum to remove/eliminate dust
Sandpaper (coarse, medium and fine)
Mesh screen disc (120 grit) with thick (1") white polishing pad
Hammer and nail set
Pry bar and small wooden wedge to remove molding
Right angle scraper for the corners and a small block or palm sander
Safety Equipment: dust mask, hearing protection, safety glasses, knee pads
Additional helpful hints:
Check that the customer has an adequate power supply. A vacuum and floor sander running at the same time may overload the circuit
Remove furniture, rugs, curtains, pictures and any other items from the room (suggest renting a dolly or hand truck)
Complete wall covering and painting projects prior to refinishing floors
Provide adequate ventilation during sanding and refinishing (a box fan in an open window will work)
Cover the doorway with a plastic sheet or drop cloth and place towels or rags at the bottoms of exit and closet doors
Cover all air vents
NEVER stop the sander while the drum is in contact with the floor
Wear clean soft shoes or socks to avoid scratching or dirt marks
The easiest way to get rid of scratches is to never put them in
Follow National Wood Flooring Association (NWFA) guidelines
To find out what kind of screens Virginia Abrasives carries, click here: Mesh Screens At VirginiaAbrasives.com
To find out more about QuickSand abrasive products, click here: QuickSand Abrasive Products