Core Drill Bits
Back to The Real Grit Blog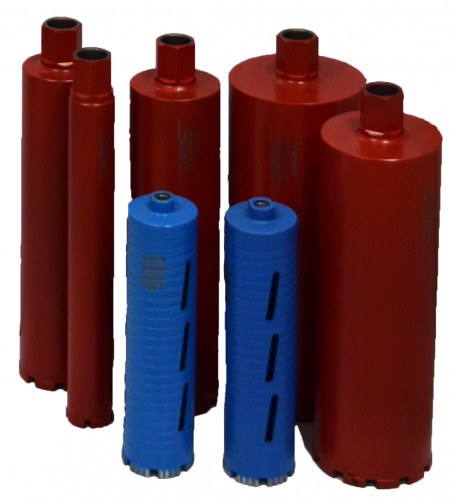 CORE DRILL BITS: HAVING THE RIGHT BIT FOR YOUR CORING NEEDS
It's not always cut and dry what core drill bits you need and why.
Virginia Abrasives offers three lines of core drill bits to cover your coring needs. They are: Ultra Value, Premium and Supreme. We provide core bits for coring concrete slabs, plumbing, HVAC, electrical, or to install other systems.
Let's review the details:
Our Ultra Value Core Bits provide a good quality bit, with a high quality of industrial diamonds, at an economical price. They can be used in wet or dry coring applications, and are the solution when a jobsite has no water supply or when it is not practical to use water. The tube of the core bit has slots in the side wall, which aid in cooling the bit during drilling, as well as assist in removing the cores. The bits have a drill depth of 9-inches and connect to your drill with a 5/8-inch-11-inch shank. The Ultra Value segment height is 5.5mm. We also offer a 6-inch bit extension, if needed.
Our Premium Core Bit line is just what the name implies; a premium bit with premium quality industrial diamond concentration. The Premium line of core bits require a water supply for operation. The water aids in removing the slurry and cooling the blade during coring. The coring depth is 14-inches. We also offer the option of a 6-inch bit extension. The Premium core bit line is designed with a 7.5mm general purpose segment which combines both accuracy and speed of cut when drilling concrete, block, masonry, natural stone and hardscape aggregates.
Our Supreme Core Bits have Turbo Segments to provide excellence in performance and a longer bit life. These well-balanced bits contain our highest level of diamond concentration, combined with alternating turbo and standard segments for optimum boring. Our Supreme core bits provide balance and speed of cut; approximately 30% faster than standard bits. The segment tips are angled in design to allow better accuracy when starting your core. An angled segment tip reduces skipping or jumping of the bit at start up. As an added feature, the core bit contains turbo grooves on both the outside and inside of the 10mm segment to clean out slurry while drilling. This unique feature offers more drilling space, speed, and accuracy.
All our core bit lines offer a variety of sizes from ½-inch diameter to 14-inch diameter. Each size is designed to optimize performance on the intended substrate.
Core Drill Bits are available here: https://www.virginiaabrasives.com/products/core-drill-bits